View this
email
in your browser
In This Issue...  
Grand Challenges...  Project/Report Updates
...

Outreach Events...
Organizational Updates
| | |
| --- | --- |
| MForesight is embarking on a new, important project for the future of U.S. manufacturing. We will be exploring the technological and economic ramifications of the loss of critical, interdependent manufacturing capabilities—the Industrial Commons—on the long-term health of U.S. manufacturing and the U.S. economy. We are concerned that more industrial companies are moving R&D capabilities abroad, that the critical linkages between product and process innovation are being lost, and that we are losing the ability to manufacture new technologies emerging from federal research investments and start-up companies. Others have documented some of these trends; MForesight intends to focus national attention and mobilize appropriate public and private response. | |
Our intent is to hold multiple roundtables around the country. The first will address the technological aspects of the issue, scheduled for January 18 in Boston. The second will address relevant policy issues and incentive structures, scheduled for January 22 in Washington, DC. Additional roundtables are planned for San Jose, and manufacturing hubs in the Midwest, and the Southeast. The output of these discussions will provide the foundation for the MForesight National Summit in May, as well as subsequent deep dive studies of technologies and production capabilities essential to rebuild the national Industrial Commons.
MForesight firmly believes that addressing these issues and devising solutions is the next Grand Challenge for U.S. manufacturing. We are determined to raise the national debate and generate effective action.
Metamaterials
The
Metamaterials Manufacturing

report
will be released soon, and we hosted a

report briefing

at the Materials Research Society Fall Meeting in Boston, MA on the morning of Wednesday, November 29.

Thank you to the 50+ people who attended, and special thanks to our panelists:
Julia R. Greer, California Institute of Technology

Clara Rivero-Baleine, Lockheed Martin

Chris Spadaccini, Lawrence Livermore National Laboratory

Lorenzo Valdevit, University of California, Irvine

Jim Watkins, University of Massachusetts-Amherst


If you are interested in being notified when the report is released, please

fill out this form

.

High Entropy Alloy Manufacturing Workshop
A select group of experts from ATI Metals, Rolls-Royce, General Electric, Arconic, Boeing, Medtronic, ExxonMobil, and more, will be convening December 7 in Washington, DC to talk about the future of high entropy alloy manufacturing. We're looking forward to a productive workshop, with the report to be released next spring.
Learn more…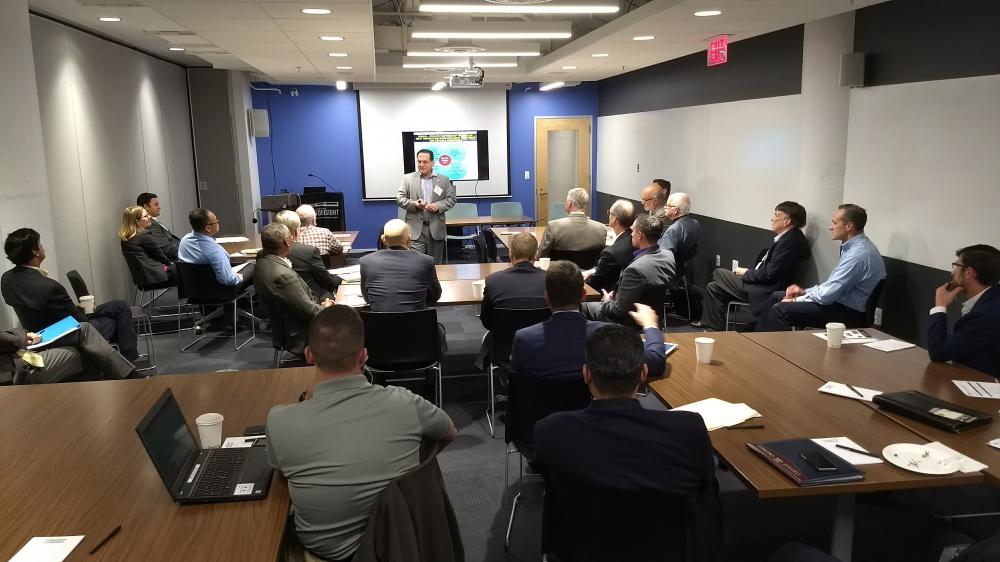 AUTM Partnering Forum
On October 19, MForesight — in cllaboration with the Association of University Technology Managers (AUTM) — hosted a special

Partnering Forum

at

TechTown Detroit

focused on shaping and joining technologies.

Read more…
The Minerals, Metals & Materials Society (TMS)
The gamechangers workshop "

Harnessing Materials Innovations to Support Next-Generation Manufacturing

" was held on October 12 in Pittsburgh. This MForesight workshop, convened in collaboration with The Minerals, Metals & Materials Society (TMS), was focused on forecasting and harnessing major materials science and engineering (MS&E) innovations that will unlock new opportunities for the next wave of manufacturing. A report will be released in 2018.

Read more…
Cybersecurity Report - Celebration & Dissemination
MForesight and the Computing Community Consortium celebrated the release of the report
Cybersecurity for Manufacturers: Securing the Digitized and Connected Factory
by giving a briefing in Washington, DC on Friday, September 22. This is a critical topic that MForesight chose to address since there are manufacturing-specific cybersecurity challenges. You can
read more about the event
or
watch a video recording
. Special thanks to the House Manufacturing Caucus for hosting and recording the event.
The National Association of Manufacturers (NAM) hosted a webinar about the Cybersecurity for Manufacturers report on November 9, 2017 to help us connect with other interested members of the manufacturing community. Leadership Council members Jim Davis, David Vasko, and Mike Russo along with Executive Director Sridhar Kota discussed the report's recommendations. Brian Raymond of NAM moderated the webinar. Thanks to all who attended!
Cybersecurity for Manufacturers
report launch event
We continue to build our network and share MForesight's vision with the manufacturing community and beyond.
Principal Researcher, Josh Bishop-Moser, attended
Materials Science & Technology 2017
(organized by TMS) in Pittsburgh, PA in early October. He met with researchers and continued gathering gamechanger ideas. To continue building MForesight's network and learning about other manufacturing initiatives, Senior Technology and Policy Specialist, Mario Urdaneta, has attended a variety of relevant briefings and discussions in Washington, DC, including the briefing
Manufacturing Jobs and Innovation in the Rail Industry
, the National Academy of Sciences meeting
The Role of State Governments in Economic Development and R&D Competitiveness
, two workshops on nanotechnology:
Scalable Nanomanufacturing of Integrated Systems
and
Nanotechnology Commercialization Pathways
, and more.
If you know of events that may be of interest for us to continue building our network and sharing MForesight's work, please send a message to
info@mforesight.org
.

SSTI
Approximately 40 participants joined MForesight at the SSTI Annual Conference on September 14 in Washington, DC to explore a range of topics and initiatives: enhancing performance across the supply chain, improving cybersecurity for manufacturers, and developing an advanced manufacturing workforce.
Read more...
FABTECH
From November 6-9 in Chicago, MForesight joined SME and over 50,000 attendees at FABTECH. Executive Director Sridhar Kota participated in a panel on Monday talking about how advanced manufacturing is transforming the economy and jobs. We hosted a booth to share about MForesight and we also surveyed attendees throughout the exhibition floor about challenges and opportunities in advanced manufacturing. This information from the front lines of manufacturing will help us ground our work. Thank you to the over 1,000 people who stopped to talk to us!
March 2018 Leadership Council Meeting




MForesight is looking forward to meeting with the Leadership Council on March 8, 2018. We will be learning more from each member about the manufacturing challenges their organizations regularly face, and soliciting guidance for the coming year. Thank you in advance to LC member Randy Schiestl and Boston Scientific in San José, CA for hosting us!




MForesight is Turning 2!




MForesight recently celebrated its 2-year anniversary. Read our special blog post which highlights a few of our achievements:

MForesight is Turning 2!



You are receiving this email because you requested to receive updates or participated in an MForesight event or initiative.
 

Unsubscribe




3508 G.G. Brown Laboratory

2350 Hayward St
Ann Arbor, MI 48109-2125